Flights, Arrivals & Departures at Valencia Airport
Origin
Airline
Flight no.
Scheduled
Est./Actual
Status
Madrid (MAD)
Iberia Regional
IB8880 expand_more(4)
00:10
23:58
Landed
Madrid (MAD)
Avianca
AV6096
00:10
23:58
Landed
Madrid (MAD)
Finnair
AY5609
00:10
23:58
Landed
Madrid (MAD)
Qatar Airways
QR6884
00:10
23:58
Landed
Madrid (MAD)
Royal Air Maroc
AT5441
00:10
23:58
Landed
Porto (OPO)
Ryanair
FR7229
00:10
23:47
Landed
Sevilla (SVQ)
Iberia Regional
IB8395
00:15
00:15
Landed
Tenerife (TFN)
Ryanair
FR631
00:25
00:25
Landed
Ibiza (IBZ)
Ryanair
FR7210
01:05
00:40
Landed
Athens (ATH)
Aegean Airlines
A3716 expand_more(1)
01:10
00:47
Landed
Athens (ATH)
Volotea
V75042
01:10
00:47
Landed
Sevilla (SVQ)
Iberia Regional
YW2002
02:05
01:39
Landed
Ibiza (IBZ)
Swiftair
WT108
07:50
Unknown
Paris (ORY)
Transavia
TO4620
07:55
08:02
Landed
Palma Mallorca (PMI)
Vueling
VY3954 expand_more(1)
07:55
07:44
Landed
Palma Mallorca (PMI)
Iberia
IB5435
07:55
07:44
Landed
Madrid (MAD)
Air Europa
UX4063 expand_more(2)
08:05
07:52
Landed
Madrid (MAD)
Aeromexico
AM6982
08:05
07:52
Landed
Madrid (MAD)
Etihad Airways
EY7590
08:05
07:52
Landed
Ibiza (IBZ)
Ryanair
FR616
08:30
08:06
Landed
Bordeaux (BOD)
Ryanair
FR6858
08:45
08:17
Landed
Mulhouse basel (BSL)
easyJet
U21001
08:45
08:24
Landed
Rome (FCO)
Vueling
VY6243 expand_more(2)
08:50
08:09
Landed
Rome (FCO)
Iberia
IB5503
08:50
08:09
Landed
Rome (FCO)
Qatar Airways
QR4710
08:50
08:09
Landed
Cologne (CGN)
Eurowings
EW538
08:55
08:44
Landed
Madrid (MAD)
Iberia Regional
IB8872 expand_more(5)
08:55
09:08
Landed
Madrid (MAD)
American Airlines
AA8714
08:55
09:08
Landed
Madrid (MAD)
Avianca
AV6068
08:55
09:08
Landed
Madrid (MAD)
Qatar Airways
QR6923
08:55
09:08
Landed
Madrid (MAD)
TAAG Angola Airlines
DT6872
08:55
09:08
Landed
Madrid (MAD)
Vueling
VY5580
08:55
09:08
Landed
Bilbao (BIO)
Volotea
V73536
09:10
08:52
Landed
Ibiza (IBZ)
Iberia Regional
IB8431
09:10
08:57
Landed
Bristol (BRS)
Ryanair
FR4440
09:15
09:04
Landed
Eindhoven (EIN)
Transavia
HV5107
09:20
09:10
Landed
Marrakech (RAK)
Ryanair
FR2217
09:20
08:53
Landed
Lisbon (LIS)
Ryanair
FR1768
09:25
09:17
Landed
London (LGW)
easyJet
U28009
09:30
09:43
Landed
Amsterdam (AMS)
Vueling
VY8352 expand_more(1)
09:50
09:57
Landed
Amsterdam (AMS)
Iberia
IB5672
09:50
09:57
Landed
Malaga (AGP)
Iberia Regional
IB8382 expand_more(1)
09:55
09:39
Landed
Malaga (AGP)
Vueling
VY5705
09:55
09:39
Landed
Bologna (BLQ)
Ryanair
FR620
10:15
09:53
Landed
London (STN)
Lauda Europe
FR643
10:20
Delayed
Pisa (PSA)
Ryanair
FR9325
11:10
10:58
Landed
Istanbul (IST)
Turkish Airlines
TK1301 expand_more(1)
11:15
10:49
Landed
Istanbul (IST)
IndiGo
6E4094
11:15
10:49
Landed
Munich (MUC)
Lufthansa
LH1842 expand_more(1)
11:15
11:27
Landed
Munich (MUC)
Etihad Airways
EY4196
11:15
11:27
Landed
Paris (CDG)
Air France
AF1416 expand_more(1)
11:20
11:10
Landed
Paris (CDG)
Delta Air Lines
DL8660
11:20
11:10
Landed
Paris (ORY)
Vueling
VY8153 expand_more(1)
11:25
11:01
Landed
Paris (ORY)
Iberia
IB5633
11:25
11:01
Landed
Palma Mallorca (PMI)
Air Europa
UX4007
11:35
11:21
Landed
Geneva (GVA)
Swiss
LX2130
11:40
11:36
Landed
Lisbon (LIS)
TAP Express
TP1094 expand_more(2)
11:50
Scheduled
Lisbon (LIS)
Azores Airlines
S48055
11:50
Scheduled
Lisbon (LIS)
Azul Linhas Aereas
AD7352
11:50
Scheduled
Frankfurt (FRA)
Lufthansa
LH1160 expand_more(4)
11:55
12:03
Landed
Frankfurt (FRA)
Air Canada
AC9627
11:55
12:03
Landed
Frankfurt (FRA)
All Nippon Airways
NH5857
11:55
12:03
Landed
Frankfurt (FRA)
Etihad Airways
EY4181
11:55
12:03
Landed
Frankfurt (FRA)
United Airlines
UA9437
11:55
12:03
Landed
Zurich (ZRH)
Swiss
LX2140 expand_more(1)
11:55
11:45
Landed
Zurich (ZRH)
Air Canada
AC6780
11:55
11:45
Landed
Nürnberg (NUE)
Ryanair
FR1131
12:05
Scheduled
Treviso (TSF)
Ryanair
FR7267
12:25
Scheduled
Stuttgart (STR)
Eurowings
EW2530
12:30
Scheduled
London (LGW)
easyJet
U28011
12:35
Delayed
Sevilla (SVQ)
Iberia Regional
IB8391
12:40
Scheduled
Bari (BRI)
Ryanair
FR1611
12:50
Scheduled
Madrid (MAD)
Iberia Regional
IB8874 expand_more(4)
12:55
Scheduled
Madrid (MAD)
American Airlines
AA8810
12:55
Scheduled
Madrid (MAD)
Avianca
AV6142
12:55
Scheduled
Madrid (MAD)
British Airways
BA7148
12:55
Scheduled
Madrid (MAD)
Cathay Pacific
CX1869
12:55
Scheduled
Menorca (MAH)
Ryanair
FR7402
12:55
Scheduled
Palma Mallorca (PMI)
Iberia Regional
IB8402
12:55
Scheduled
Napoli (NAP)
Ryanair
FR6836
13:00
Scheduled
Tenerife (TFN)
Vueling
VY3103 expand_more(1)
13:00
Scheduled
Tenerife (TFN)
Iberia
IB5240
13:00
Scheduled
Palma Mallorca (PMI)
Ryanair
FR7215
13:10
Scheduled
Berlin (BER)
easyJet
U25103
13:35
Scheduled
Zurich (ZRH)
Swiss
LX2142 expand_more(1)
14:10
Scheduled
Zurich (ZRH)
Air Canada
AC6782
14:10
Scheduled
Ibiza (IBZ)
Vueling
VY3694 expand_more(1)
14:15
13:52
Landed
Ibiza (IBZ)
Iberia
IB5355
14:15
13:52
Landed
Dusseldorf (DUS)
Eurowings
EW9538
14:20
Delayed
Tangier (TNG)
Air Arabia
3O871
14:20
Scheduled
Amsterdam (AMS)
Transavia
HV6331 expand_more(2)
14:40
Delayed
Amsterdam (AMS)
Delta Air Lines
DL7515
14:40
Delayed
Amsterdam (AMS)
KLM
KL2659
14:40
Delayed
Faro (FAO)
Ryanair
FR8930
15:00
Scheduled
Milan (MXP)
Ryanair
FR1444
15:00
Scheduled
Bilbao (BIO)
Vueling
VY3968 expand_more(1)
15:05
14:48
Landed
Bilbao (BIO)
Iberia
IB5443
15:05
14:48
Landed
Brussels (BRU)
Brussels Airlines
SN3751
15:05
14:58
Landed
Geneva (GVA)
easyJet
U21371
15:10
Scheduled
Paris (ORY)
Transavia
TO4628
15:20
Scheduled
Sevilla (SVQ)
Ryanair
FR2208
15:25
Scheduled
Rome (FCO)
Wizz Air
W48391
16:00
Scheduled
Menorca (MAH)
Iberia Regional
IB8441
16:10
15:57
Landed
Marseille (MRS)
Ryanair
FR2222
16:15
Scheduled
Madrid (MAD)
Air Europa
UX4065 expand_more(4)
16:15
Scheduled
Madrid (MAD)
Aeromexico
AM6858
16:15
Scheduled
Madrid (MAD)
Etihad Airways
EY7591
16:15
Scheduled
Madrid (MAD)
ITA Airways
AZ2403
16:15
Scheduled
Madrid (MAD)
MEA
ME2065
16:15
Scheduled
Cairo (CAI)
Air Cairo
SM725
16:20
15:53
Landed
Amsterdam (AMS)
KLM
KL1503 expand_more(6)
16:30
Scheduled
Amsterdam (AMS)
Air France
AF3230
16:30
Scheduled
Amsterdam (AMS)
China Airlines
CI9483
16:30
Scheduled
Amsterdam (AMS)
China Eastern Airlines
MU1850
16:30
Scheduled
Amsterdam (AMS)
Delta Air Lines
DL9485
16:30
Scheduled
Amsterdam (AMS)
Kenya Airways
KQ1503
16:30
Scheduled
Amsterdam (AMS)
Xiamen Air
MF9901
16:30
Scheduled
Madrid (MAD)
Iberia Regional
IB8876 expand_more(6)
17:05
Scheduled
Madrid (MAD)
American Airlines
AA8715
17:05
Scheduled
Madrid (MAD)
Avianca
AV6104
17:05
Scheduled
Madrid (MAD)
LATAM Airlines
LA1718
17:05
Scheduled
Madrid (MAD)
Qatar Airways
QR6883
17:05
Scheduled
Madrid (MAD)
Royal Air Maroc
AT5440
17:05
Scheduled
Madrid (MAD)
Vueling
VY5582
17:05
Scheduled
Cork (ORK)
Ryanair
FR8109
17:05
Scheduled
Tangier (TNG)
Ryanair
FR5540
17:20
Scheduled
Paris (CDG)
DAT
AF1420
17:25
Scheduled
Palma Mallorca (PMI)
Vueling
VY3956 expand_more(1)
17:25
Scheduled
Palma Mallorca (PMI)
Iberia
IB5437
17:25
Scheduled
Frankfurt (FRA)
Lufthansa
LH1464 expand_more(2)
17:30
Scheduled
Frankfurt (FRA)
Air Canada
AC9519
17:30
Scheduled
Frankfurt (FRA)
United Airlines
UA9451
17:30
Scheduled
Lisbon (LIS)
TAP Express
TP1092 expand_more(4)
17:35
Scheduled
Lisbon (LIS)
Air Canada
AC2673
17:35
Scheduled
Lisbon (LIS)
Azores Airlines
S48732
17:35
Scheduled
Lisbon (LIS)
Azul Linhas Aereas
AD7351
17:35
Scheduled
Lisbon (LIS)
Emirates
EK4896
17:35
Scheduled
Oviedo Aviles (OVD)
Volotea
V73582
17:40
Scheduled
Memmingen (FMM)
Ryanair
FR1848
17:55
Scheduled
Luxembourg (LUX)
Luxair
LG763
17:55
Scheduled
Istanbul (IST)
Turkish Airlines
TK1313 expand_more(1)
18:00
Scheduled
Istanbul (IST)
IndiGo
6E4093
18:00
Scheduled
Vienna (VIE)
Lauda Europe
FR7370
18:05
Scheduled
Casablanca (CMN)
Royal Air Maroc Express
AT968 expand_more(2)
18:10
Scheduled
Casablanca (CMN)
Iberia
IB1803
18:10
Scheduled
Casablanca (CMN)
Qatar Airways
QR4570
18:10
Scheduled
Paris (ORY)
Vueling
VY8157 expand_more(1)
18:20
Scheduled
Paris (ORY)
Iberia
IB5636
18:20
Scheduled
Eindhoven (EIN)
Transavia
HV5105
18:30
Scheduled
Rome (FCO)
Ryanair
FR999
18:40
Scheduled
La Coruna (LCG)
Volotea
V73816
18:50
Scheduled
Turin (TRN)
Ryanair
FR2259
18:55
Scheduled
Rotterdam (RTM)
Transavia
HV6441
19:15
Scheduled
NIce (NCE)
VistaJet
VJT691
19:19
Scheduled
London (LHR)
British Airways
BA422 expand_more(2)
19:35
Scheduled
London (LHR)
American Airlines
AA7033
19:35
Scheduled
London (LHR)
Qatar Airways
QR9685
19:35
Scheduled
Palma Mallorca (PMI)
Ryanair
FR7373
19:35
Scheduled
Sevilla (SVQ)
Iberia Regional
IB8393
19:40
Scheduled
Palma Mallorca (PMI)
Air Europa
UX4011
19:45
Scheduled
Milan (MXP)
Ryanair
FR7470
19:50
Scheduled
London (LGW)
easyJet
U28013
20:15
Scheduled
Palma Mallorca (PMI)
Iberia Regional
IB8400
20:20
Scheduled
Krakow (KRK)
Ryanair
FR2229
20:30
Scheduled
Bergamo (BGY)
Ryanair
FR497
21:20
Scheduled
San Sebastian (EAS)
Volotea
V73312
21:20
Scheduled
Prague (PRG)
Smartwings
QS1054 expand_more(2)
21:20
Scheduled
Prague (PRG)
Czech Airlines
OK4688
21:20
Scheduled
Prague (PRG)
Eurowings
EW3014
21:20
Scheduled
Sofia (SOF)
Wizz Air
W64409
21:20
Scheduled
Malaga (AGP)
Ryanair
FR645
22:00
Scheduled
Sevilla (SVQ)
Ryanair
FR9530
22:00
Scheduled
London (STN)
Ryanair
FR1736
22:05
Scheduled
Lyon (LYS)
Volotea
V72656
22:20
Scheduled
Malaga (AGP)
Iberia Regional
IB8380 expand_more(2)
22:30
Scheduled
Malaga (AGP)
Qatar Airways
QR6545
22:30
Scheduled
Malaga (AGP)
Vueling
VY5703
22:30
Scheduled
Palma Mallorca (PMI)
Vueling
VY3952 expand_more(1)
22:40
Scheduled
Palma Mallorca (PMI)
Iberia
IB5433
22:40
Scheduled
Amsterdam (AMS)
KLM
KL1501 expand_more(3)
23:00
Scheduled
Amsterdam (AMS)
China Eastern Airlines
MU1849
23:00
Scheduled
Amsterdam (AMS)
Kenya Airways
KQ1501
23:00
Scheduled
Amsterdam (AMS)
Xiamen Air
MF9720
23:00
Scheduled
Ibiza (IBZ)
Iberia Regional
IB8433
23:05
Scheduled
Palma Mallorca (PMI)
Ryanair
FR7826
23:05
Scheduled
Paris (CDG)
DAT
AF1492
23:10
Scheduled
Zurich (ZRH)
Swiss
LX2146
23:20
Scheduled
London (LGW)
Vueling
VY8473 expand_more(1)
23:35
Scheduled
London (LGW)
British Airways
BA8077
23:35
Scheduled
Paris (ORY)
Vueling
VY8155 expand_more(1)
23:35
Scheduled
Paris (ORY)
Iberia
IB5634
23:35
Scheduled
Ibiza (IBZ)
Ryanair
FR1699
23:40
Scheduled
Fez (FEZ)
Ryanair
FR5372
23:45
Scheduled
Belfast (BFS)
Ryanair
FR9569
23:50
Scheduled
Destination
Airline
Flight no.
Scheduled
Est./Actual
Status
Athens (ATH)
Aegean Airlines
A3717 expand_more(1)
01:55
02:00
En-Route
Athens (ATH)
Volotea
V75043
01:55
02:00
En-Route
Lisbon (LIS)
Ryanair
FR1769
05:45
05:51
En-Route
Lisbon (LIS)
TAP Express
TP1089 expand_more(2)
06:00
06:08
En-Route
Lisbon (LIS)
Azores Airlines
S48019
06:00
06:08
En-Route
Lisbon (LIS)
Azul Linhas Aereas
AD7500
06:00
06:08
En-Route
Madrid (MAD)
Iberia Regional
IB8881 expand_more(7)
06:05
06:15
En-Route
Madrid (MAD)
American Airlines
AA8762
06:05
06:15
En-Route
Madrid (MAD)
Avianca
AV6176
06:05
06:15
En-Route
Madrid (MAD)
Cathay Pacific
CX1894
06:05
06:15
En-Route
Madrid (MAD)
Finnair
AY5608
06:05
06:15
En-Route
Madrid (MAD)
Qatar Airways
QR6926
06:05
06:15
En-Route
Madrid (MAD)
Royal Air Maroc
AT5442
06:05
06:15
En-Route
Madrid (MAD)
Vueling
VY5586
06:05
06:15
En-Route
Ibiza (IBZ)
Ryanair
FR615
06:15
06:17
En-Route
Amsterdam (AMS)
KLM
KL1502 expand_more(4)
06:20
06:27
En-Route
Amsterdam (AMS)
China Eastern Airlines
MU1851
06:20
06:27
En-Route
Amsterdam (AMS)
Delta Air Lines
DL9376
06:20
06:27
En-Route
Amsterdam (AMS)
Kenya Airways
KQ1502
06:20
06:27
En-Route
Amsterdam (AMS)
Xiamen Air
MF9639
06:20
06:27
En-Route
Tenerife (TFN)
Vueling
VY3102 expand_more(1)
06:20
06:13
En-Route
Tenerife (TFN)
Iberia
IB5239
06:20
06:13
En-Route
Nuremberg (NUE)
Ryanair
FR1130
06:45
06:45
En-Route
Paris (ORY)
Vueling
VY8152 expand_more(1)
06:45
06:49
En-Route
Paris (ORY)
Iberia
IB5808
06:45
06:49
En-Route
Paris (CDG)
DAT
AF1493
06:50
06:56
En-Route
Ibiza (IBZ)
Iberia Regional
IB8430
06:55
07:08
En-Route
Zurich (ZRH)
Swiss
LX2147 expand_more(1)
07:00
07:05
En-Route
Zurich (ZRH)
Air Canada
AC6775
07:00
07:05
En-Route
Pisa (PSA)
Ryanair
FR9326
07:00
06:59
En-Route
Malaga (AGP)
Iberia Regional
IB8163
07:00
07:02
En-Route
Bari (BRI)
Ryanair
FR1610
07:30
07:31
En-Route
Venice (TSF)
Ryanair
FR7266
07:30
07:33
En-Route
Palma de Mallorca (PMI)
Vueling
VY3955 expand_more(1)
08:30
08:29
En-Route
Palma de Mallorca (PMI)
Iberia
IB5436
08:30
08:29
En-Route
Paris (ORY)
Transavia
TO4621
08:40
09:13
En-Route
Palma de Mallorca (PMI)
Air Europa
UX4008
08:55
09:05
En-Route
Barcelona (BCN)
Iberia Regional
IB8377 expand_more(3)
09:00
09:11
En-Route
Barcelona (BCN)
Finnair
AY5614
09:00
09:11
En-Route
Barcelona (BCN)
Qatar Airways
QR6960
09:00
09:11
En-Route
Barcelona (BCN)
Vueling
VY5690
09:00
09:11
En-Route
Bordeaux (BOD)
Ryanair
FR6857
09:20
09:21
En-Route
Porto (OPO)
Ryanair
FR7228
09:20
09:24
En-Route
Basel (BSL)
easyJet
U21002
09:25
09:26
En-Route
Madrid (MAD)
Iberia Regional
IB8873 expand_more(6)
09:30
10:03
En-Route
Madrid (MAD)
American Airlines
AA8597
09:30
10:03
En-Route
Madrid (MAD)
Avianca
AV6095
09:30
10:03
En-Route
Madrid (MAD)
Cathay Pacific
CX1858
09:30
10:03
En-Route
Madrid (MAD)
Qatar Airways
QR6922
09:30
10:03
En-Route
Madrid (MAD)
Royal Air Maroc
AT5439
09:30
10:03
En-Route
Madrid (MAD)
Vueling
VY5581
09:30
10:03
En-Route
Rome (FCO)
Vueling
VY6242 expand_more(2)
09:30
09:31
En-Route
Rome (FCO)
Iberia
IB5502
09:30
09:31
En-Route
Rome (FCO)
Qatar Airways
QR4711
09:30
09:31
En-Route
Cologne (CGN)
Eurowings
EW539
09:35
09:41
En-Route
Bilbao (BIO)
Volotea
V73537
09:40
09:45
En-Route
Seville (SVQ)
Iberia Regional
IB8390
09:45
09:51
En-Route
Marrakesh (RAK)
Ryanair
FR2216
09:50
09:47
En-Route
Bristol (BRS)
Ryanair
FR4441
09:55
10:06
En-Route
Mahon (MAH)
Ryanair
FR7401
10:00
10:12
En-Route
Eindhoven (EIN)
Transavia
HV5108
10:05
10:08
En-Route
London (LGW)
easyJet
U28010
10:10
11:29
En-Route
Palma de Mallorca (PMI)
Iberia Regional
IB8403
10:30
10:30
En-Route
Amsterdam (AMS)
Vueling
VY8353 expand_more(1)
10:30
11:50
En-Route
Amsterdam (AMS)
Iberia
IB5673
10:30
11:50
En-Route
Palma de Mallorca (PMI)
Ryanair
FR7214
10:35
10:37
En-Route
Bologna (BLQ)
Ryanair
FR619
10:50
10:56
En-Route
London (STN)
Lauda Europe
FR642
10:55
Scheduled
Cork (ORK)
Ryanair
FR8110
11:40
11:47
En-Route
Ibiza (IBZ)
Vueling
VY3695 expand_more(1)
12:00
Scheduled
Ibiza (IBZ)
Iberia
IB5356
12:00
Scheduled
Paris (CDG)
Air France
AF1417
12:00
Scheduled
Munich (MUC)
Lufthansa
LH1843
12:05
Scheduled
Istanbul (IST)
Turkish Airlines
TK1302 expand_more(1)
12:05
Scheduled
Istanbul (IST)
IndiGo
6E4150
12:05
Scheduled
Geneva (GVA)
Swiss
LX2131
12:25
Scheduled
Madrid (MAD)
Air Europa
UX4064 expand_more(4)
12:30
Scheduled
Madrid (MAD)
Aeromexico
AM6861
12:30
Scheduled
Madrid (MAD)
Etihad Airways
EY7593
12:30
Scheduled
Madrid (MAD)
ITA Airways
AZ2417
12:30
Scheduled
Madrid (MAD)
MEA
ME2064
12:30
Scheduled
Lisbon (LIS)
TAP Express
TP1093 expand_more(3)
12:35
Scheduled
Lisbon (LIS)
Azores Airlines
S48741
12:35
Scheduled
Lisbon (LIS)
Azul Linhas Aereas
AD7454
12:35
Scheduled
Lisbon (LIS)
Emirates
EK4897
12:35
Scheduled
Zurich (ZRH)
Swiss
LX2141
12:40
Scheduled
Frankfurt (FRA)
Lufthansa
LH1161 expand_more(4)
12:45
Scheduled
Frankfurt (FRA)
Air Canada
AC9628
12:45
Scheduled
Frankfurt (FRA)
Air India
AI8877
12:45
Scheduled
Frankfurt (FRA)
All Nippon Airways
NH5860
12:45
Scheduled
Frankfurt (FRA)
United Airlines
UA9452
12:45
Scheduled
Marseille (MRS)
Ryanair
FR2221
12:55
Scheduled
Memmingen (FMM)
Ryanair
FR1849
13:00
Scheduled
London (LGW)
easyJet
U28012
13:10
Scheduled
Stuttgart (STR)
Eurowings
EW2531
13:15
Scheduled
Madrid (MAD)
Iberia Regional
IB8875 expand_more(2)
13:30
Scheduled
Madrid (MAD)
American Airlines
AA8811
13:30
Scheduled
Madrid (MAD)
Avianca
AV6141
13:30
Scheduled
Mahon (MAH)
Iberia Regional
IB8440
13:30
Scheduled
Naples (NAP)
Ryanair
FR6837
13:30
Scheduled
Paris (ORY)
Vueling
VY8156 expand_more(1)
13:40
Scheduled
Paris (ORY)
Iberia
IB5635
13:40
Scheduled
Krakow (KRK)
Ryanair
FR2228
14:00
Scheduled
Rome (FCO)
Ryanair
FR1000
14:00
Scheduled
Tangier (TNG)
Ryanair
FR5539
14:00
Scheduled
Berlin (BER)
easyJet
U25104
14:10
Scheduled
Palma de Mallorca (PMI)
Iberia Regional
IB8401
14:50
Scheduled
Dusseldorf (DUS)
Eurowings
EW9539
15:00
Scheduled
Zurich (ZRH)
Swiss
LX2143
15:00
Scheduled
Palma de Mallorca (PMI)
Vueling
VY3957 expand_more(1)
15:00
Scheduled
Palma de Mallorca (PMI)
Iberia
IB5438
15:00
Scheduled
Tangier (TNG)
Air Arabia
3O872
15:10
Scheduled
Amsterdam (AMS)
Transavia
HV6332 expand_more(1)
15:25
Scheduled
Amsterdam (AMS)
KLM
KL2658
15:25
Scheduled
Milan (MXP)
Ryanair
FR1445
15:30
Scheduled
Faro (FAO)
Ryanair
FR8931
15:35
Scheduled
Bilbao (BIO)
Vueling
VY3969 expand_more(1)
15:40
Scheduled
Bilbao (BIO)
Iberia
IB5444
15:40
Scheduled
Geneva (GVA)
easyJet
U21372
15:45
Scheduled
Brussels (BRU)
Brussels Airlines
SN3752
15:55
Scheduled
Seville (SVQ)
Ryanair
FR2207
16:00
Scheduled
Paris (ORY)
Transavia
TO4629
16:05
Scheduled
Seville (SVQ)
Iberia Regional
IB8392
16:45
Scheduled
Rome (FCO)
Wizz Air
W48392
16:45
Scheduled
Palma de Mallorca (PMI)
Ryanair
FR7372
17:00
Scheduled
Palma de Mallorca (PMI)
Air Europa
UX4014
17:00
Scheduled
Amsterdam (AMS)
KLM
KL1504 expand_more(3)
17:15
Scheduled
Amsterdam (AMS)
Air France
AF8236
17:15
Scheduled
Amsterdam (AMS)
China Eastern Airlines
MU1852
17:15
Scheduled
Amsterdam (AMS)
Xiamen Air
MF9902
17:15
Scheduled
Luxor (LXR)
Air Cairo
SM726
17:20
Scheduled
Madrid (MAD)
Iberia Regional
IB8877 expand_more(4)
17:45
Scheduled
Madrid (MAD)
Avianca
AV6140
17:45
Scheduled
Madrid (MAD)
LATAM Airlines
LA1719
17:45
Scheduled
Madrid (MAD)
TAAG Angola Airlines
DT6877
17:45
Scheduled
Madrid (MAD)
Vueling
VY5583
17:45
Scheduled
Belfast (BFS)
Ryanair
FR9568
17:50
Scheduled
London (LGW)
Vueling
VY8472 expand_more(1)
18:00
Scheduled
London (LGW)
British Airways
BA8076
18:00
Scheduled
Paris (CDG)
DAT
AF1421
18:10
Scheduled
San Sebastian (EAS)
Volotea
V73313
18:15
Scheduled
Lisbon (LIS)
TAP Express
TP1091 expand_more(4)
18:20
Scheduled
Lisbon (LIS)
Air Canada
AC2670
18:20
Scheduled
Lisbon (LIS)
Azores Airlines
S48748
18:20
Scheduled
Lisbon (LIS)
Azul Linhas Aereas
AD7339
18:20
Scheduled
Lisbon (LIS)
Emirates
EK4895
18:20
Scheduled
Frankfurt (FRA)
Lufthansa
LH1465
18:25
Scheduled
Luxembourg (LUX)
Luxair
LG764
18:35
Scheduled
Vienna (VIE)
Lauda Europe
FR7371
18:40
Scheduled
Istanbul (IST)
Turkish Airlines
TK1314 expand_more(1)
18:50
Scheduled
Istanbul (IST)
IndiGo
6E4149
18:50
Scheduled
Paris (ORY)
Vueling
VY8154 expand_more(1)
18:55
Scheduled
Paris (ORY)
Iberia
IB5810
18:55
Scheduled
Casablanca (CMN)
Royal Air Maroc Express
AT969 expand_more(1)
18:55
Scheduled
Casablanca (CMN)
Iberia
IB1802
18:55
Scheduled
Eindhoven (EIN)
Transavia
HV5106
19:15
Scheduled
Trieste (TRS)
Ryanair
FR617
19:15
Scheduled
Dublin (DUB)
Ryanair
FR1739
19:20
Scheduled
A Coruna (LCG)
Volotea
V73817
19:20
Scheduled
Turin (TRN)
Ryanair
FR2258
19:25
Scheduled
Rotterdam (RTM)
Transavia
HV6442
20:00
Scheduled
Palermo (PMO)
Ryanair
FR4487
20:05
Scheduled
Bologna (BLQ)
Ryanair
FR6422
20:10
Scheduled
Malaga (AGP)
Iberia Regional
IB8381 expand_more(1)
20:10
Scheduled
Malaga (AGP)
Vueling
VY5704
20:10
Scheduled
Milan (MXP)
Ryanair
FR7471
20:20
Scheduled
London (LHR)
British Airways
BA445 expand_more(2)
20:25
Scheduled
London (LHR)
American Airlines
AA7034
20:25
Scheduled
London (LHR)
Qatar Airways
QR9798
20:25
Scheduled
Madrid (MAD)
Air Europa
UX4060 expand_more(3)
20:35
Scheduled
Madrid (MAD)
Aeromexico
AM6859
20:35
Scheduled
Madrid (MAD)
Etihad Airways
EY7592
20:35
Scheduled
Madrid (MAD)
Kuwait Airways
KU6083
20:35
Scheduled
London (LGW)
easyJet
U28014
20:50
Scheduled
Ibiza (IBZ)
Iberia Regional
IB8432
20:55
Scheduled
Ibiza (IBZ)
Ryanair
FR1698
21:25
Scheduled
Milan (BGY)
Ryanair
FR496
21:55
Scheduled
Asturias (OVD)
Volotea
V73583
21:55
Scheduled
Sofia (SOF)
Wizz Air
W64410
22:00
Scheduled
Prague (PRG)
Smartwings
QS1055 expand_more(2)
22:05
Scheduled
Prague (PRG)
Czech Airlines
OK4689
22:05
Scheduled
Prague (PRG)
Eurowings
EW3015
22:05
Scheduled
Malaga (AGP)
Ryanair
FR644
22:35
Scheduled
Seville (SVQ)
Ryanair
FR9531
22:35
Scheduled
London (STN)
Ryanair
FR1735
22:40
Scheduled
Lyon (LYS)
Volotea
V72657
22:55
Scheduled
Palma de Mallorca (PMI)
Vueling
VY3953 expand_more(1)
23:15
Scheduled
Palma de Mallorca (PMI)
Iberia
IB5434
23:15
Scheduled
Palma de Mallorca (PMI)
Ryanair
FR7827
23:40
Scheduled
Flying To and From Valencia Airport
This page provides information about the destinations that can be reached via Valencia Airport.
Was your flight delayed or cancelled?
You may be eligible to receive up to 600 EUR compensation per person in your party..
Claim Now!
Beat the Queues
Don't stand sweating for 45 mins waiting for Security. Get a fast track and get through in 5 mins or less.
Book now
Lounge like a VIP
Avoid the crowds. Get discounted access to the VIP airport lounge. Its not as expensive as you may think.
Book now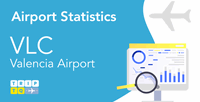 In July 2019, Valencia Airport had recorded 858,784 passengers, while in July 2023, the number soared to an impressive 1,035,611 passengers, an all-time high increase of 20.59%...