VALENCIA AIRPORT (VLC) INFORMATION
Origin
Airline
Flight no.
Scheduled
Est./Actual
Status
No flight arrivals were found at Valencia Airport.
Destination
Airline
Flight no.
Scheduled
Est./Actual
Status
No flight departures were found at Valencia Airport.
Car Hire at Valencia Airport
UNBEATABLE VALUE CAR RENTAL
Free Amendments | Free Cancellations | No Card Fees




Valencia Airport - All Information on Valencia Airport (VLC) Valencia Airport
Carretera Aeropuerto s/n. 46940 Manises, Valencia, Spain
phone +34 913 211 000
phone+34 961 598 674 (Lost + Found)
emailvlc_informacion@aena.e
emailvlc.objetoshallados@aena.es (Lost+Found)
Facts and History about Valencia Airport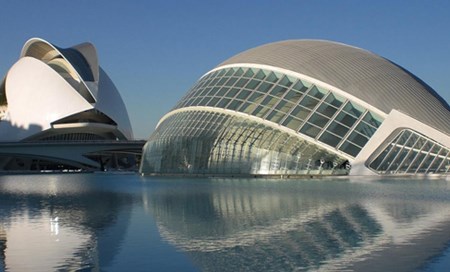 Also referred to as Manises Airport because of its close proximity to the city limits of Manises y Quart de Poblet, Valencia Airport is located just 8 km west of Valencia city center in Spain.
Valencia's airport handles mainly domestic air travel with almost 50% of its commercial flight traffic being destined for Madrid, the country's capital, while the other most important domestic destinations served include Palma de Mallorca, Ibiza, Seville and Barcelona. Valencia Airport also deals with international air travel, which originates mainly in the European member states of Britain, Germany, France and Italy. In 2017 the airport handled almost 6.75 million passengers. This is up from 5.8 million the previous year, an increase of 16.3%.
Arrivals and Departures at Valencia Airport
Passengers arriving and departing from Valencia Airport are offered free WiFi access throughout the terminal as part of the overall passenger services. Several well-known car rental providers have their car hire desks in the arrivals zone of Valencia Airport, offering transport option at competitive prices, among them are Avis, Europcar, Hertz and National Atesa.
Public transport is also available with 2 underground train lines linking the airport with the port and city center. It takes around 25 minutes to reach Carrer de Colón, where a variety of onward travel options are available. The metro line 3 covers the journey into Valencia city center, the port and the wider metropolitan area. Passengers can access the metro underground train station via the ground floor of the regional flights terminal.
A return ticket into Valencia costs EUR 2.90 for one zone and EUR 4.00 for two zones. A single, one-way ticket costs EUR 1.50 for one zone and EUR 2.10 for two zones. These tickets can be purchased in the metro station.
The bus line 150 connection between Valencia Airport and the city takes 45 minutes to cover the distance to Valencia city center, stopping en route in the towns of Mislata, Quart de Poblet and Manises.
Other passenger services include banking services and a VAT refund desk, the Joan Olivert VIP lounge, which is open from 6.00 am to 22.20 pm daily, meeting rooms for business travelers at the Rafael Martinez Esteve conference center, offering a hall capacity of up to 80 people, two lost luggage desks, nine baby changing facilities, a police station and a health center, as well as free assistance services for passengers with reduced mobility.
Valencia's airport is a barrier-free airport, but occasionally passengers with reduced mobility do require assistance. Several meeting points are dotted around the airport: one is located in the terminal arrivals forecourt, one at departures, one in parking lot P1, which is located opposite the terminal building; there is also one in the long-stay car park with another two meeting points being located in the check-in lobby and the access lobby that leads to the metro underground station.
Shopping at Manises Airport is as enjoyable as it is varied with outlets for food, newspapers, magazines and books as well as shops selling typical Spanish souvenirs like original arts and crafts items. Beyond the security control area there are several outlets offering Duty Free goods. There is also a Pharmacy to take care of any last minute health issues at the terminal.
Passengers will find a cafeteria, restaurants and a fast food outlet, selling food and refreshments throughout the day; some offer strictly Mediterranean cuisine while other outlets present guests with international style food. Travelers requiring accommodation will find a total of 12 hotels that are located within close proximity of the airport.
The Valencia region is not just a holiday destination but also an important commercial center, where agricultural business is conducted among other important industries. Since 2002 passenger numbers have more than doubled, showing that the Valencia region has much to offer to both leisure and business travelers.
Parking at Valencia Airport is handled in three principal parking areas. The long-stay car park offers the best prices, while car park P1 is better suited for stays of up to 4 days and for short-term parking for dropping off or picking up passengers. The car hire companies have their own designated parking lot, where their customers can drop off rental cars in a long-term car parking facility.
Valencia's airport is served by a large number of airlines, which includes Air Berlin, Air Nostrum, Air Europa, EasyJet, Jet2.com, Wizz Air, Vueling and Ryanair among others. Some of Europe's best known carriers also use Valencia Airport, such as Lufthansa, Niki Luftfahrt, Swiss, Iberia, Air France, TAP Portugal, Turkish Airlines, Alitalia and Air Italy.
International destinations covered by the airport's carriers include Amsterdam, Berlin, Bologna, Bristol, Brussels, Bucharest, Dublin, Lisbon, London, Kiev, Frankfurt, Geneva and Istanbul. Domestic destinations also include Bilbao and Asturias.
For more information about Valencia Airport, please visit the official Spanish Airport Authority website at www.aena-aeropuertos.es.
Hotels near Valencia Airport
There are a number of hotels to suit all budgets and requirements at or near Valencia Airport.
Additional Services and Amenities at Valencia Airport
At Valencia Airport you will find the usual array of bars and restaurants, airport lounges and shops.
Things to do in Valencia
There are a number of activities to suit all ages and interests in the region - see a selection of tourist activities in Valencia, Spain.
Services at Valencia Airport
Useful Information about Valencia Airport