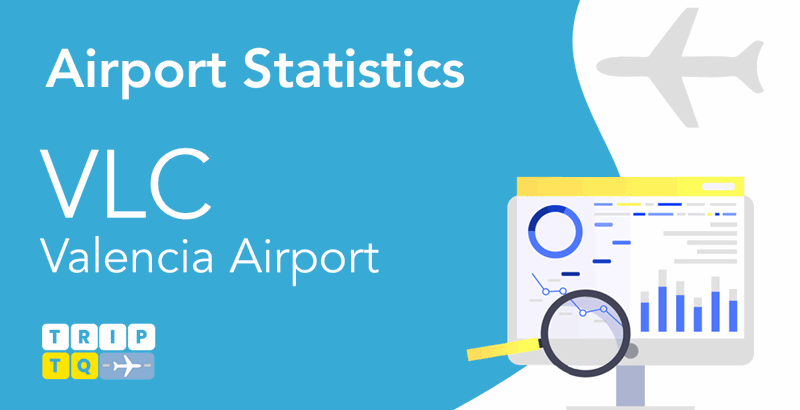 Valencia Airport Sees All-Time High 21% Passenger Numbers in July
Valencia Airport has recently achieved an extraordinary surge in passenger numbers during the month of July 2023. According to available records, in July 2019, it had recorded 858,784 passengers, while in July 2023, the number soared to an impressive 1,035,611 passengers, an all-time high increase of 20.59%, and solidifying its position as a key hub for air travel in the region.
The year 2020 brought unprecedented challenges to the global aviation and tourism industry due to the pandemic. Valencia Airport was no exception, as it faced a significant decline in passenger numbers compared to the record-breaking statistics of July 2019. The mandatory travel restrictions and lockdown measures implemented worldwide resulted in a sharp drop in air travel.
Despite the challenges posed by the pandemic, the region's economy experienced a steady recovery. With the gradual easing of travel restrictions in the post-pandemic year of 2021, and the successful vaccination campaigns, travelers regained confidence. This contributed to the surge in passenger numbers post-pandemic and the subsequent impressive recovery of Valencia Airport in July 2023.
This economic upturn translated into increased consumer spending power, allowing individuals to prioritize travel and leisure activities. With a stronger economy, locals and international visitors alike had more disposable income to allocate towards travel, positively impacting Valencia Airport's passenger numbers.
The airport's efforts to improve connectivity have played a significant role in attracting more passengers. Valencia is well-connected to major European cities, making it an ideal hub for travelers looking to explore other regional destinations. This connectivity has further bolstered Valencia's appeal and contributed to the surge in passenger numbers.
Its tourism sector is a significant industry that plays a vital role in driving the surge in passenger traffic at Valencia Airport. Reopening popular tourist attractions, including the captivating City of Arts and Sciences, the historic Old Town, and the pristine beaches of Valencia, has attracted domestic and international tourists. The allure of experiencing the city's rich cultural heritage, diverse gastronomy, and breathtaking natural beauty has undoubtedly contributed to the remarkable increase in passenger numbers.
The region has also invested heavily in promoting itself as a desirable tourist destination through comprehensive marketing campaigns. Efforts to highlight the city's cultural attractions, culinary experiences, and unique landmarks have successfully piqued the interest of travelers, resulting in an influx of visitors to the region.
This includes collaborative strategies by local tourism authorities and businesses to showcase the city's attractions, events, and cultural heritage to successfully reach potential travelers worldwide. This increased visibility led to heightened interest in the region as a travel destination.
It has also experienced growth in the Meetings, Incentives, Conferences, and Exhibitions (MICE) industry. As a top MICE destination, the city's modern conference centers, hotel accommodations, and excellent infrastructure make it an attractive location for hosting business events and conferences. The increasing number of corporate travelers attending these events has contributed to the growing passenger numbers at Valencia Airport.
In Valencia, the cruise industry and the airport have further boosted passenger traffic. The city's proximity to the cruise ship ports in the Mediterranean has also played a role in the increased passenger numbers. Many cruise passengers choose to embark or disembark in Valencia, using the airport as their entry or departure point.
As the region continues to invest in tourism and improve its offerings, the airport's passenger numbers are expected to continue to rise. These factors, including airline partnerships, enhanced connectivity, tourism promotion, MICE industry growth, cruise ship connections, improved airport facilities, and government support, have all contributed to the increase in passenger numbers at Valencia Airport.
UNBEATABLE VALUE CAR RENTAL

FREE
Amendments,
FREE
Cancellations,
NO
card fees!

airport_shuttle Need Airport Transfers?
Useful Information about Valencia Airport