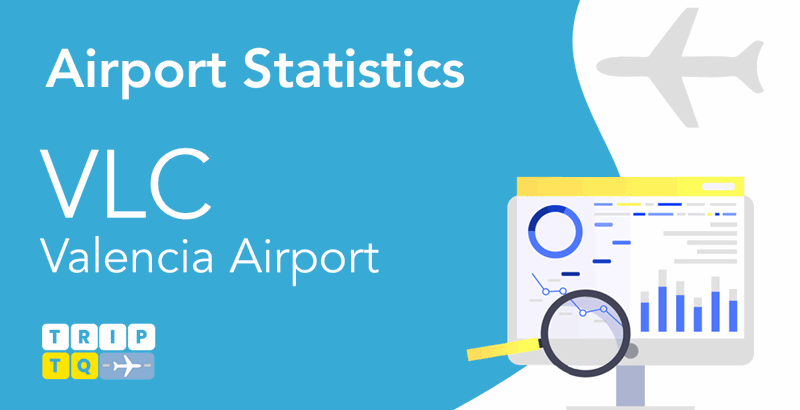 Valencia Airport Shatters Passenger Records in Q3 2023, Soaring 18%
Valencia Airport experienced a bustling Q3 of 2023, with passenger traffic soaring 17.89% compared to the same quarter in 2022. This robust growth surpassed pre-pandemic levels, demonstrating the airport's strong rebound in travel demand. Valencia Airport now handles more passengers than in Q3 2019 before the pandemic began.
Passenger Growth at Valencia Airport Continues in Q3 2023
Valencia Airport passenger statistics for the third quarter of 2023 showed a significant increase in passenger numbers compared to the same quarter in the previous four years. In Q3 2019, a total of 2,539,893 passengers passed through Valencia Airport.
The global pandemic severely impacted passenger numbers in Q3 2020, with only 790,641 passengers recorded, representing a decrease of 68.87% compared to the previous year. Incidentally, there was a strong recovery in Q3 2021, with 1,774,050 passengers recorded, marking a significant increase of 124.38%. This positive trend continued in Q3 2022, with 2,593,557 passengers, a 46.19% increase from the previous year.
Passenger Traffic - 2018 to 2022
The latest figures for Q3 2023 show a continued upward trend, with 3,057,436 passengers recorded at Valencia Airport. This represents a 17.89% increase from the same quarter of the previous year. When comparing the passenger statistics for 2022 to the previous four years, numbers have fluctuated significantly. 2018 Valencia Airport recorded 7,769,867 passengers, which increased by 9.90% in 2019, reaching 8,539,397 passengers.
The impact of the global pandemic was evident in 2020, with only 2,487,495 passengers recorded, representing a decrease of 70.87% compared to the previous year. Steady recovery began in 2021, with 4,077,836 passengers recorded, a 63.93% increase from the previous year. The most significant increase was seen in 2022, with 8,114,852 passengers recorded, representing a 99.00% increase from the previous year.
Flight Statistics - September 2023
Valencia Airport has also released flight statistics for September 2023, providing insights into the top destinations and airlines operating at the airport. Most flights from Valencia Airport are to domestic destinations within Spain, with popular international choices including Italy, France, Germany, and the United Kingdom. Paris, London, Amsterdam, Rome, and Lisbon are the most popular choices among the international destinations. The top destinations from Valencia Airport for domestic travel include Palma Mallorca, Madrid, Ibiza, Sevilla, and Menorca.
The top airlines operating at Valencia Airport are Ryanair, Iberia Regional, Vueling, Transavia, and easyJet, offering a wide range of domestic and international flights to cater to the diverse travel needs of passengers. These flight statistics provide valuable insights into the popular destinations and airlines at Valencia Airport, helping travelers make informed decisions when planning their trips.
Are you a travel publisher and would like this information for your site/blog/publication?
Contact us on this form to request Valencia Airport Statistics (Statistics, data and infographics are available for a wide range of airports worldwide - please tell us your requirements using the form)
UNBEATABLE VALUE CAR RENTAL

FREE
Amendments,
FREE
Cancellations,
NO
card fees!

airport_shuttle Need Airport Transfers?
Useful Information about Valencia Airport