Valencia Airport Departures (VLC)
Not all flights may be showing. If not available use search above to find your flight by airline, airport or flight number.
Destination
Airline
Flight no.
Scheduled
Est./Actual
Status
Yaounde (NSI)
Sparfell Luftfahrt
LDX280
04:00
Scheduled
Gran Canaria (LPA)
Ryanair
FR7202
04:05
Scheduled
Barcelona (BCN)
Iberia Regional
IB8373 expand_more(1)
04:15
Scheduled
Barcelona (BCN)
Vueling
VY5688
04:15
Scheduled
Bilbao (BIO)
Vueling
VY3969 expand_more(1)
04:25
Scheduled
Bilbao (BIO)
Iberia
IB5375
04:25
Scheduled
Ibiza (IBZ)
Iberia Regional
IB8432
04:45
Scheduled
Amsterdam (AMS)
KLM
KL1504 expand_more(2)
04:55
Cancelled
Amsterdam (AMS)
Air France
AF8236
04:55
Cancelled
Amsterdam (AMS)
China Eastern Airlines
MU1852
04:55
Cancelled
Palma de Mallorca (PMI)
Iberia Regional
IB8401
05:00
Scheduled
Palma de Mallorca (PMI)
Air Europa
UX4014
05:05
Scheduled
Madrid (MAD)
Iberia Regional
IB8877 expand_more(4)
05:45
Scheduled
Madrid (MAD)
Avianca
AV6140
05:45
Scheduled
Madrid (MAD)
LATAM Airlines
LA1719
05:45
Scheduled
Madrid (MAD)
TAAG Angola Airlines
DT6877
05:45
Scheduled
Madrid (MAD)
Vueling
VY5583
05:45
Scheduled
Istanbul (IST)
Turkish Airlines
TK1314 expand_more(1)
05:50
Scheduled
Istanbul (IST)
IndiGo
6E4149
05:50
Scheduled
Palma de Mallorca (PMI)
Vueling
VY3953 expand_more(1)
06:05
Scheduled
Palma de Mallorca (PMI)
Iberia
IB5365
06:05
Scheduled
Brussels (BRU)
Vueling
VY8920 expand_more(1)
06:10
Scheduled
Brussels (BRU)
Iberia
IB5615
06:10
Scheduled
Lisbon (LIS)
TAP Express
TP1095 expand_more(4)
06:15
Scheduled
Lisbon (LIS)
Air Canada
AC2670
06:15
Scheduled
Lisbon (LIS)
Azores Airlines
S48056
06:15
Scheduled
Lisbon (LIS)
Azul Linhas Aereas
AD7354
06:15
Scheduled
Lisbon (LIS)
Emirates
EK4897
06:15
Scheduled
Milan (BGY)
Malta Air
FR4632
06:50
Scheduled
No flight departures were found at Valencia Airport.
Flight Departures at Valencia Airport
Valencia Airport departures include a large number of domestic destinations. Apart from the capital Madrid, regular regional flights are available to destinations like Barcelona and Bilbao, Seville, Menorca, Ibiza, Santiago de Compostela, Malaga, Lanzarote, Tenerife-South and Tenerife-North, Santander and Mallorca.
International departures at Valencia Airport include destinations like Frankfurt and Berlin in Germany, Bergamo, Bologna, Genoa, Pisa and Rome-Ciampino in Italy, Dublin in Ireland, Lisbon in Portugal, Manchester, Bristol and London in the United Kingdom, Memmingen, Eindhoven and Amsterdam in the Netherlands, Vienna in Austria and Geneva and Zürich in Switzerland. Kiev and Moscow in the Russian state are also offered, while Prague is at present just a seasonal destination. The new destinations planned for next year include Rotterdam in the Netherlands and Algiers in North Africa.
Valencia Airport departures won't have any problems travelling to the airport, as the region's aviation hub is well connected by the A-3 motorway, linking Valencia with Madrid. This motorway passes the airport. The coastal route is also covered with the A-7 motorway connection to Barcelona.
Several car hire providers have rental desks at the airport and in the city center, making it possible to collect a car at one location and drive to the airport, where the rental vehicle can be handed back to the service team in the designated parking lot for rental cars.
Metro lines 3 and 5 offer easy train access from the city center to the airport, but there are also two different bus connections that serve the airport from Valencia destinations. A journey from the main railway station to the airport takes around 15 minutes, while from other city center destinations the journey to the airport will take around 25 minutes.
The Metrobus takes 45 minutes from city center locations (line 150), while the Aerobus shuttle service takes just 20 minutes to cover the distance – without making quite so many stops.
Departures at Valencia Airport can choose from a large number of airlines: Vueling, Ryanair, Wizzair, Air Berlin and Air Europa, Easyjet, Jet2.com, Alitalia and Iberia to name but a few all offer affordable air travel to and from Valencia's airport.
Passengers have free WiFi access from all public areas of the terminal, making it possible to check-in online and to make last minutes changes to travel arrangements online. An information desk at the airport provides passengers with general information, while three tourist and transportation information desks can offer more specific assistance.
Several cafeterias, burger bars and a restaurant offer affordable snacks and refreshments. Duty Free shopping is available once passengers have passed through the security control zone and are heading for the gates and departure lounge.
Taxi services are available from all major hotels – there are 12 hotels within close proximity to the airport – and from outside the mainline train station in the city center. Airport taxi services are run by Valencia city taxis and taxi operators from Manises. They charge a trip to and from the airport at fare zone B prices, which means there is an airport supplement of EUR 4.95 that is added to the fare.
The daytime minimum fare is EUR 1.45 for zone 1, 2 and 3 with every additional kilometer traveled being added at EUR 1.01 for zone 1, EUR 1.13 for zone 2 and EUR 1.16 for zone 3. Zone A includes just the city centers of Valencia and Mislata, while zone B incorporates the wider metropolitan area of Valencia and Manises. Day time prices are charged between the hours of 6.00 am to 10.00 pm. From 10.00 pm onward until 6.00 am night time supplements apply. The taxi rank at the airport is located roughly in the middle of the terminal, where passengers will be dropped off as near to the departure zone as possible.
For more information about Valencia Airport departures, please visit the Airport Authority's website at www.aena-aeropuertos.es.
Was your flight delayed or cancelled?
You may be eligible to receive up to 600 EUR compensation per person in your party..
Claim Now!
Beat the Queues
Don't stand sweating for 45 mins waiting for Security. Get a fast track and get through in 5 mins or less.
Book now
Lounge like a VIP
Avoid the crowds. Get discounted access to the VIP airport lounge. Its not as expensive as you may think.
Book now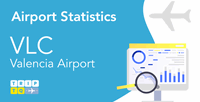 Valencia Airport has recently experienced an impressive surge in passenger numbers, with September 2023 seeing a remarkable 19.97% increase compared to the pre-pandemic statistics of September 2019...